Simplify Property Operations With A Single Digital Platform
Relying on paper forms and email chains to manage your field operations makes it hard to quickly approve projects, control costs, or understand how repairs and upgrades are impacting your bottom line.
SuiteSpot Technology creates custom digital workflows for field staff to manage unit turnovers, inspections, and work orders.
By replacing paper with software, your management team gains real-time insights into your on-site operations—making it easier to increase efficiencies and monitor operations across your portfolio.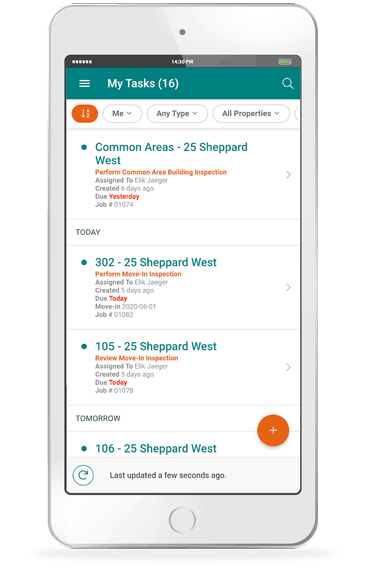 Increase Operational Efficiencies
Get units rent-ready faster with workflows for field staff—without a single step being missed
Approve requests, view escalations and communicate with field teams and vendors faster to prevent delays
Send work orders to preferred vendors automatically
Maintain property value by scheduling maintenance or inspection alerts for field staff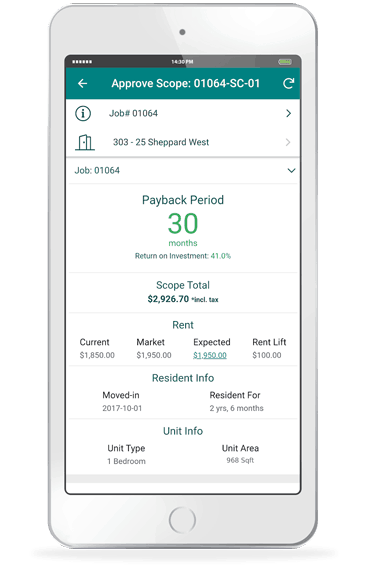 Reduce Costs
Standardize costs for repairs or upgrades for each type of unit, and be alerted to spending anomalies
Make resident chargebacks easier to track and document with detailed inspection notes and automated email notifications
Show field staff unit ROI based on scope of work to prevent overspending before work starts
Ensure compliance and reduce liability with digitally stored inspection records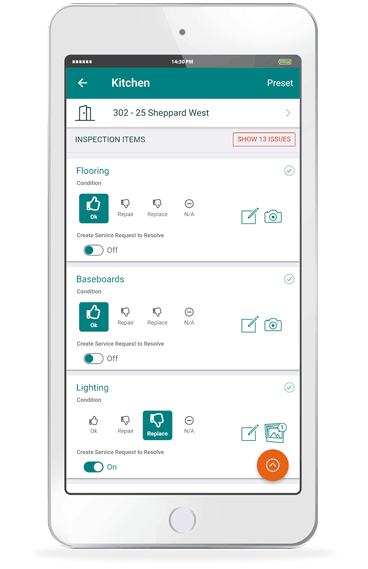 Gain Insights & Drive NOI
Quickly understand the state of each property and unit—and reduce the need for site visits
Track historical turnover spending to plan future budgets
Get predictive future spending reports based on unit condition inspections
Integrate with accounting systems to streamline budgeting and cost allocation
Property management teams that adopt SuiteSpot can expect to increase NOI by $300,000* per year through vacancy loss savings, resident chargeback recovery and increased operational efficiencies.
*Based on 1,000 units.
Configure your service catalog and process rules for field operations.
Field staff carry out dispatched tasks and share updates via their mobile device.
Management monitors project or task statuses and costs instantly.
Share data with other systems for seamless reporting and cost tracking.
Unit Make-Ready Management
Complete unit turnovers faster with custom workflows for field staff. Have approval requests and progress alerts go to your management offices, and get pre-approved tasks sent directly to vendors—all from your team's mobile devices.
Mobile Inspections
Make sure nothing is missed during move-in or recurring inspections by creating a robust inspection template library. Schedule alerts for recurring inspections, and store inspection data digitally for reporting purposes.
Mobile Work Orders
Create, assign and dispatch work orders to your staff's mobile devices. Get instant updates on expenses and progress via photos, notes and alerts from your field team. Keep residents in the loop with automated email and text messages.
Property Operations Dashboard & Reports
Get a complete view to the status of projects and the state of your portfolio with built-in dashboards. Exception reports ensure problems are dealt with quickly while detailed analytics alert you to trends that impact your bottom line.
Companies Using SuiteSpot
Multifamily property management teams and owners have used SuiteSpot to oversee 100,000+ make-ready projects, inspections and maintenance tasks.
"Toronto Community Housing (TCHC), North America's 2nd largest public housing organization with over 58,000 units under management, selected SuiteSpot as the exclusive turnover management software platform. TCHC expects the SuiteSpot solution to provide millions of dollars in savings year after year"
Greenwin
"It has made a great difference in the way I manage the suite turnover process and quality control aspect of my position, as well as the tenant chargeback follow ups."
Janet Chamberlain
Director of Operations/Residential
Park Property Management
"The deployment of Suite Spot has streamlined our turnover process and given us transparency in our financial reporting."
Margaret Herd
Senior Vice President, Residential Property Management & Chair, FRPO
The Byng Group
"SuiteSpot has become our operating platform enabling us to accelerate the rent readiness of units and ultimately bringing significant savings to our multi-family customers in time and money."
Frank Settino
Chief Executive Officer